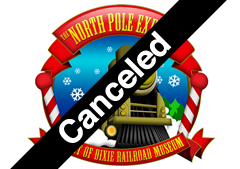 All aboard! Join us for a magical trip to the North Pole!
"All Aboard!", calls the conductor, and your family's magical journey to the beautiful North Pole begins!
Through the dark night, the North Pole Express makes its way by starlight to the top of the world. On the way, you'll listen to a whimsical Christmas story, sing your favorite holiday carols, and watch out the windows for the bright lights of the North Pole to appear. Upon arrival at the brilliantly decorated home of the Toymaker himself, the elves, Santa, and Mrs. Claus will all board the train to visit your family and to take photos with every child. Be sure to whisper your wish for what you're hoping to find under your tree on Christmas morning!
After your special visit with the Christmas couple, you'll enjoy chocolate drinks and a yummy treat - delivered by the North Pole Express chefs. You can dance with the elves, receive a lovely Christmas keepsake, and relax for the music-filled ride back to the Depot.
Your North Pole Express adventure will make lasting Christmas memories for you and your family for years to come -- And for even more festive fun, be sure to wear your pajamas for the ride!
Group tickets (20+) go on sale July 8th 9:00 AM CST
Individual tickets go on sale July 22nd 9:00 AM CST
Tickets only available online or by calling (205)757-8383. Tickets not available for purchase at the museum's office.
Click Here For More Information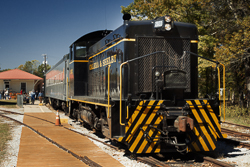 Take a trip back in time as you board vintage railroad coaches restored to their former glory! The Calera & Shelby Railroad runs on a portion of the former L&N Alabama Mineral Railroad, established in 1891.
Ride behind a first generation diesel-electric locomotive as you travel through the scenic forests of Shelby County. Upgrade to a caboose or locomotive ticket for a memorable experience and get an up close look at railroad operations!
Click Here For More Information