150 Ton Derrick & Boom car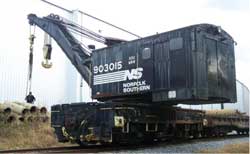 Built in 1926 by Industrial Works as Southern Railway Wrecker D5989, it was later converted from steam to diesel power. It is also self propelled with a top speed of 25 mph.
Later renumbered as #D76 and then 903015, the wrecker worked out of Gentilly Yard in New Orleans before being donated to the Heart of Dixie by Norfolk Southern.
An article listing all cranes built by Industrial Works