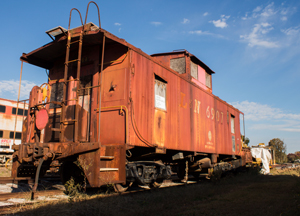 Louisville & Nashville caboose #6907 was built on November 28, 1952 by the International Car Company of Kenton Ohio for the Monon Railroad (MON). It was delivered in December of that same year and given the road number C-361. C-361 was the second of a nine caboose order, numbered C-360 – C-369, that were ultimately delivered to the Monon Railroad.
Renumbering
Later, the Monon Railroad renumbered the caboose as 81502. After the merger with the L&N, the caboose was given the road number 907 and later 6907. In the late 1970's L&N it was again renumbered to 154 and assigned to the Cincinnati Division. This renumbering to 2- and 3-digit numbers signified a downgrade from road service to local and transfer service.
Standardized Design
Having a caboose manufactured by an outside vendor was unique. Prior to the 1970s, most railroads manufactured their own cabooses. This included the Monon Railroad. Yet, as more and more railroads turned to standardized designs, the International Car Company rose to become a major player in caboose manufacturing. The example the museum has is a prime example of this standardization.
The Monon Railroad
The Monon Railroad (MON) operated almost exclusively in the state of Indiana. Later, The Monon Railroad merged with Louisville and Nashville in 1971. Today, CSX operations encompass the lines previously operated by The Monon Railroad.
The Heart of Dixie
L&N finally retired the caboose from service. It was donated to the Heart of Dixie Museum on February 14, 1984. It was stored at the Woodyard spur.