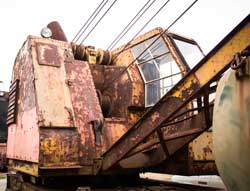 The Cullen Friestedt Company of Chicago, Illinois built the museum's Burro Model 15 Crane in June 1949 giving it the serial # 15208. The Model 15 has a 12-ton capacity and is powered by a 3 cylinder Detroit Diesel.
All In One
Burro cranes were well suited to light-duty maintenance and construction jobs along a rail line. In addition to its 12-ton capacity, the little "Burro" cranes were self-propelled with enough horsepower to pull one or even two fully loaded railroad cars. This allowed a Burro to be more or less self-contained.
Swiss Army Knife
These cranes could be fitted with a variety of attachments to full fill a wide variety needs. They were used for digging, lifting and even snow removal. This basic designed survived well into the 1980s.
Pack Animal of the Industry
Cullen-Friestedt used the trade name "Burro" in reference to the pack animals of the old west to market their cranes. Later, the marketing tag line became the "Pack Animal of the Industry". The Model 15 was the first model in the "Burro" series. Later models carried the numbers 20, 30, 40 and 50.