Built by Lima Locomotive Works
No. 4046 was built in 1944 by Lima Locomotive Works, construction number 8380 for the U.S. Army Transportation Corps. It was the fourth of thirty-seven identical locomotives using road numbers 4043-4071 built between January and February. The lot of thirty-seven were assigned to Army depots all over the U.S.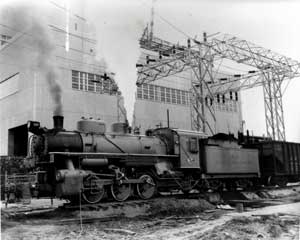 No. 4046 working at the Alabama By-Products and Coke Co.
As built no. 4046 came 50" drive wheels arranged in a 0-6-0 configuration. The locomotive's 190-psi boiler and empty weight of 152,000lbs, helped provide a tractive effort of 40,000 lbs.
Alabama By-Products and Coke Co.
The Mississippi Valley Equipment Company (MVE) in St. Louis Missouri acquired no. 4046. In May 1947, MVE then sold no. 4046 to the Alabama By-Products and Coke Company in Tarrant, Alabama. It was used in regular service until August of 1956. In 1956 no. 4046 was assigned to backup the company's new SW900 diesel switcher. It continued in this role until 1962.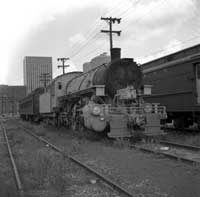 No. 4046 at the Heart of Dixie's downton location.
Alabama Power Company
Alabama Power Company leased no. 4046 from January to June 1965 during the construction of the Greene County Electric Generating Plant. The locomotive supplied steam during the initial start up. Eventually the plant became capable of generating their own steam via their newly constructed, coal fired, boilers. At the end of the lease, no. 4046 was returned to Alabama By-Products and Coke Company.
Retirement
In September 1969, Alabama By-Products elected to donate no. 4046 to the Heart of Dixie Railroad Club (the forerunner of today's Museum). The locomotive is now on static display in the Clark Yard.