The Wilton Depot building served the Southern Railroad in the town now known as Wilton, Alabama, roughly 10 miles west of Calera, Alabama. Before finally settling on the moniker of 'Wilton,' the town carried several other names. For example, when the Alabama and Tennessee Railroad laid the first rails to the town in 1853, it was then known as Woods, Alabama.
The railroad was also known by a variety of names, such as the "East Tennessee, Virginia and Georgia Railroad" (ETG&V), "Selma, Rome and Dalton", and the "Brierfield, Blocton and Birmingham Railroad," also known as the "3B Railroad". In 1894, the ETG&V was merged with the Richmond & Danville Railroad by financier J.P. Morgan and formed the Southern Railroad which later became Norfolk Southern.
A "Combination Depot"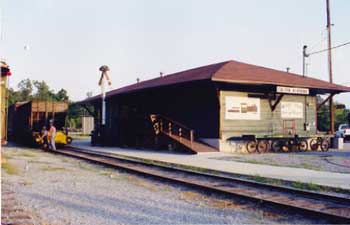 The Wilton Depot is known as a "combination depot," meaning the building served freight needs as well as passengers out of the same building. There is not a clear date of the origination of the Wilton Depot. However other stations built in the immediate area and of similar design by the Southern Railroad were built in the 1900 - 1910 timeframe.
The freight side of the combination structure featured a sizeable storage area with two large rolling doors that opened up to a wrap-around loading dock. The other side of the building served passengers during the "Jim Crowe" era, with the waiting area separated into a "White" waiting room and a smaller "Black" waiting room.
Dividing the freight area from the passenger waiting area was the station agent's office. The office had a ticket window opening to the waiting rooms as well as a door to the freight storage area. A bay window that protruded three feet on the track side allowed for better visibility for the station agent to observe station track activity. The bay window area also contained the controls that operated the "station board signal" which was located on a mast outside the bay window. This device signaled to passing trains whether they were to stop at the station, or not.
The Move to Calera
In January of 1984, the Wilton Depot was relocated approximately 13 miles East to the Heart of Dixie Railroad Museum to serve as its Depot Museum. The depot houses displays and artifacts to tell the story of Alabama railroad history. The Wilton Depot is now named the Calera Depot and tickets are sold from its ticket agents window for weekend train rides on the museum's Calera & Shelby Railroad.