Volunteering
Volunteer with us!
We hope you do - here's what's in It for You!
"Everybody can be great because everybody can serve."
—Martin Luther King, Jr.
Are you looking for a place to volunteer where your skills, interests, and life experiences are valued and you can meet others just like you? If so, consider joining us at the Heart of Dixie Railroad Museum in Calera.
"But I really don't know anything about trains" you think, "how can I be useful there and enjoy volunteering?"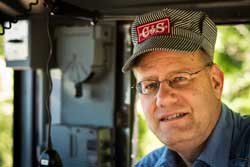 Because, here at the Heart of Dixie Railroad Museum, we are just doing things you probably have done all your life at work and home but just in a railroad museum setting!
We want to make it as easy as possible for you to decide to volunteer with us by listing some tips on volunteering wisely, identifying proven health benefits of volunteering, offering some tax tips, and a checklist where you can match your skills, interests, and experience with our needs.
If you think you want to join us as a volunteer, you must first become a member.
(We require paid membership due to liability issues associated with working around our railroad equipment.)
Click here for online registration!