Accomodations on site.
Our Museum welcomes those who may need special accommodations during their visit. The Museum Gift Shop is fully accessible and contains ADA compliant restrooms.
ADA friendly location and building accessiblity.
The museum is situated on flat land with a paved parking lot and level sidewalks. The Boone Library (Woodlawn Depot) and our Depot Museum (Calera Depot) have wheelchair ramps to enter the buildings.
NOTE: The Calera Depot building does steps that lead from the waiting room and ticket window area up into the freight room in the back which houses some static displays.
Lift available as needed.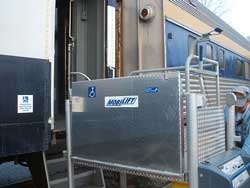 If you will be riding the train with us, we do provide assistance with a wheelchair lift which can be used for wheelchairs, or anyone who may not have be able to climb the stairs on our coaches. Not all coaches are accessible but we do provide accessible seating in the Long Island Car and one of the Open Air Cars. Secure wheelchair spaces are available on those cars. Tickets to specifically reserve these limited spaces are available for purchase.
Although not all vintage train coaches are accessible, a our wheelchair lift may also be used to aid passengers with limited mobility who may not be able to navigate the stairs into the train cars.
Lift unavailble along the line.
Wheelchair loading and unloading may be unavailable during events that occur in locations other than the Calera Depot, such as the Ozan Wine Train or the Pumpkin Patch Express.
If you have any questions or concerns regarding special accommodations, please contact the museum office at [email protected] or by phone or by phone (205) 668-3435.