Battson-Hatten Lumber Company
Built by Baldwin Locomotive Works, construction number 58101, in 1924 for the Battson-Hatten Lumber Company in Mississippi and was assigned #12 as it's road number. When delivered, the cost was an astonishing $29,385. In 21st century dollars, adjusting for inflation, the cost would be well over $400,000.

Had A Taller Stack
As built, the Baldwin class 10-38 E 3749, came 51" drive wheels arranged in a 2-8-0 configuration. The Walschaerts valve gear, in conjunction with the 185-psi boiler, provided a tractive effort of 44,000 lbs. operating on saturated steam. The locomotive was built to burn wood or soft coal and, as a result, it needed a taller smoke stack to better disperse the decidedly greater number of cinders..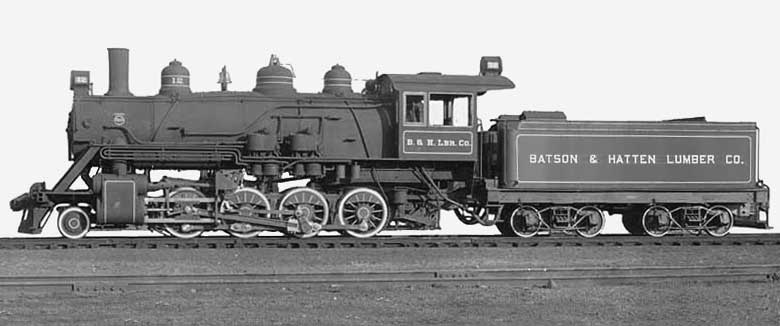 Battson-Hatten Lumber Company #12.
Photo: the Alan Dismukes Collection
Birmingham Rail & Locomotive Co.
Primarily, the locomotive was used to haul logs over the Gulf and Ship Island Railroad (G&SIRR) main line from Forrest County Mississippi. The Battson-Hatten Lumber Company eventually closed in May of 1932. The locomotive was then sold to the Birmingham Rail & Locomotive Co. where it was renumbered #1825.
Woodward Iron Co.
On October 14, 1935 the locomotive was acquired by the Woodward Iron Co., Woodward, AL where it was again renumbered as #38: the number it carries today. Of the original tender, only the frame remains. The present tank and coal-bunker were built by Woodward. They also replaced the original arch type trucks.