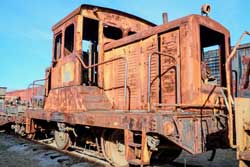 This 35-ton center cab switcher was built in 1953 by Euclid Company of Ohio. It is the only locomotive Euclid ever produced.
General Motors Takeover
Euclid was better known for their manufacturing of off-road haulers and scrapers. By the early 1950s, Euclid had grown to become a large corporation, so General Motors saw an opportunity to enter the earthmoving manufacturing market building on the strengths of the Euclid Corporation. On September 30, 1953, the General Motors takeover was announced. With an already strong presence in the locomotive marketplace via EMD, the production and development of a Euclid locomotive product line came to an end before it even really got started.
Birmingham Slag Company
Birmingham Slag Company (later named Vulcan Materials Company) operated No. 2430 using the road number No. DE4. Vulcan Materials Company later retired No. 2430. The locomotive was donated to the Heart of Dixie Railroad Museum in 1973. Since the museum's move to Calera, No. 2430 has been on static display in Clark Yard.