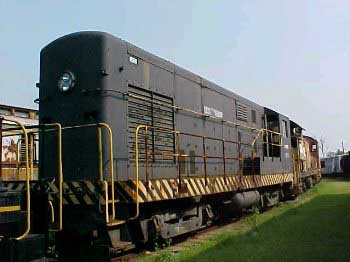 Fairbanks-Morse (FM) No. 1850 is an H12-44 locomotive built in January and February of 1953 as part of a group of 20 locomotives. It is a 1,200 horsepower, 120-ton yard switcher. The locomotive was delivered with the Fairbanks Morse standard 2-cycle 38D-6 opposed piston prime mover capable of producing 1,200 horsepower via a B-B truck setup (meaning two axles per truck). Each of the six cylinders was 8.125 x 10 inches in size. This combination allowed for a top speed of 60 mpg and a tractive effort of 40,440 lbf.
The model designation, H12-44 is easily broken down:
"H" stood for Hood unit
" "12" indicated 1,200 horsepower
"Each "4" meant four axles and four traction motors
Given the available horsepower and its relative light weight, an H12-44 was ideal for use in both yard switcher service as well as light freight duty.
Nearly 400 Constructed
The FM H12-44 became the builder's most successful diesel locomotive it ever produced with nearly 400 constructed over an eleven-year period. Even though Fairbanks Morse diesels used the complicated opposed-piston prime mover, railroads became quite fond of them for their incredible lugging ability and relative light weight.
Retirement
This particular locomotive pulled trains for the Heart of Dixie in years past. The SW-8 units No. 2019 and No. 2011 eventually replaced No. 1850. Currently this unit is listed as inoperable, or perhaps a better phrase is retired. However, given the proper mechanical work, it can be easily brought back into service on work trains and as a spare for our passenger service.