ALCO HH900 #82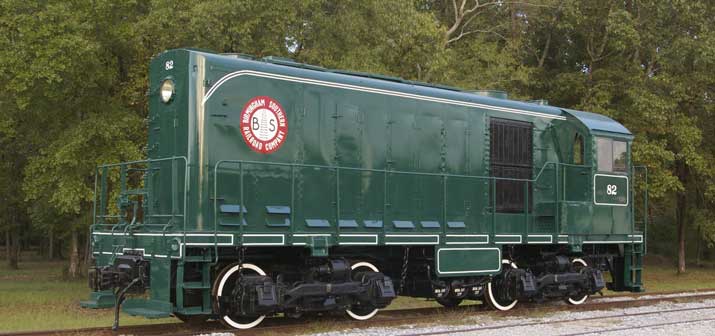 Birmingham Southern Railroad Co. No. 82, wearing her original road colors.
Built by The American Locomotive Company (ALCO), Schenectady, NY, in March 1937 under the construction number 68788. It was delivered to its original owner, the Birmingham Southern Railroad carrying the road number 82. BS bought 5 HH900s and 5 EMC NC locomotives as part of their dieselization initiative in 1937. Later they acquired 86-88.
Supercharged Diesel
These locomotives were 900 horsepower supercharged diesel locomotives built for switching service and equipped with multiple-unit controls for transfer service. With a length of 43' 3" and weight of 115 tons, the HH900 has a starting tractive force of 69,000 pounds. The prime mover is a McIntosh & Seymour Model 6-53T engine. The locomotive was equipped with Westinghouse electrical equipment.
Birmingham Southern Railroad
The original paint scheme is believed to have been dark green with white pinstriping and lettering, however no color photo has ever been found to support this. As a Birmingham Southern Railroad locomotive, its last paint scheme would have been green with a broad yellow strip and black lettering. For over two decades No. 82 worked for the Birmingham Southern, but eventually all of the High Hoods were replaced by newer power. No. 82's inspection cards show Birmingham Southern last operated her in 1962.
American Cast Iron Pipe Co.
The next year Birmingham Southern sold Nos. 81 and 82 to one of its on-line shipping customers, American Cast Iron Pipe Company (ACIPCO). ACIPCO renumbered the engines as their Nos. 101 and 103, respectively and operated them in a plain green paint scheme. Later, the green paint was replaced with an elaborate red, white and blue scheme. For the next two decades No. 103 switched carloads of cast iron pipe before being finally sidelined due to a broken crankshaft.
Retirement
In her last years of operation, No. 103 was the second-oldest operating diesel locomotive in the United States. With her retirement, No. 103 was subsequently donated to the Heart of Dixie Railroad Museum.