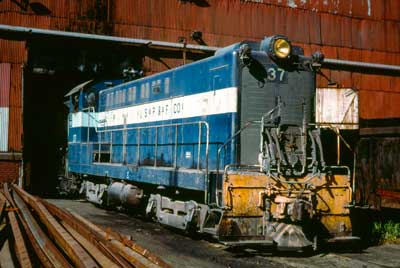 Baldwin Locomotive Works, Eddystone, PA, using construction number 75836, built No. 37 in April 1953. Baldwin built a total of 61 S-8s from 1950-1954. The S-8s were powered by a 6-cylinder model 606 800 horsepower, normally aspirated, prime mover.
Built as a Cow-and-Calf Unit
No. 37 was originally built as a calf of a cow-and-calf unit delivered in 1954. Actually, the pair of 800-hp switchers had been constructed on the basis of an expected order from Oliver Iron Mining (OIM). This pair also marked the end of S-8 deliveries.
Although the duo were painted in OIM colors and given road numbers 1216A/B, the set was never delivered to OIM. OIM elected to order from EMD instead and the 1216A/B set sat unused in EddyStone.
37 Gets a Cab
In January of 1954, Baldwin shipped the cab-equipped unit to Armco Steel in Ashland, Kentucky as No. 1201. Later in that year, Baldwin outfitted the calf unit and it departed for United States Pipe & Foundry (USP&F) in Birmingham, Alabama, which assigned it the road number No. 37.
The Mary-Lee Railroad
Originally No. 37 operated with 4 other S-8s (33-36) primarily on daily coal trains on the "Mary-Lee Railroad." All of the S-8s were equipped for multiple-unit operation. By 1964, No. 37 was usually assigned to work the No. 5 blast furnace at the east end of the North Birmingham coke plant. In the later part of the 60's, No. 37 had become the coke plant switcher.
By 1972, No. 37 was assigned to the coal yard weighting and car-spotting job. Photos from the era show that this engine wore a blue Missouri Pacific paint scheme circa 1965-1972. However, in 1972, No. 37 was repainted in an orange and white scheme.

Removed From Service
Jim Walters Resources gained control of the USP&F in 1969, and No. 37 was eventually re-lettered as Jim Walters Resources, Inc. No. 37. At some point the locomotive was equipped for remote control operation on the Jefferson Warrior Railroad of Jim Walters Resources.
Once No. 37 was finally removed from service. The locomotive was donated to the Heart of Dixie Railroad Museum along with a pair of former USP&F cabooses, 99x and 100x.