Hop Aboard with Peter Cottontail!
All aboard our historic train for a 75-minute roundtrip ride on the Easter Eggspress! This Easter weekend, there's no need for your child to grab for Easter eggs in a scramble of kids. Instead, let them receive their sweet Easter treats from Peter Cottontail himself! Be sure to take a photo with the Easter Bunny as he personally visits every family on the train.
A variety of free family-friendly activities and photo opportunities will be available on the Museum grounds. Enjoy snacks and drinks offered for purchase from vendors on the grounds. No food or drinks are allowed onboard the trains.
Easter Fun for 'Some-Bunny' Special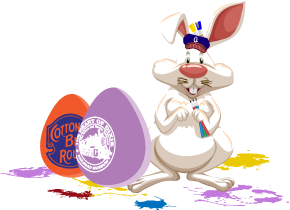 Relax on the train and take a family photo onboard with Peter Cottontail. Enjoy fun family activities on the grounds of the museum, like cornhole, putt-putt golf, decorating Easter eggs, and visiting the food trucks and vendors available on the grounds. Take a basket full of shareable photos at various stations, visit the gift shop to find something special for your favorite little engineers and more!
Make it 'Egg-stra' Memorable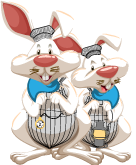 Caboose and locomotive tickets may be available for those wishing to get an up-close look at railroad operations (without a visit from Peter Cottontail). Passenger ages and space capacity limits apply - Check with ticket agents prior to purchase.
Pre-purchased tickets may be picked up at the depot or tickets may be purchased on-site the day of the event as available.
Event Details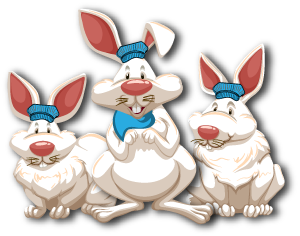 Expect to depart the Depot promptly on schedule. Please plan to arrive on the Museum grounds at least 60 minutes prior to your selected ticket time in order to pick up your tickets from the Depot, do the activities on the grounds and to utilize the restrooms at the Giftshop. Boarding will occur approximately 15 minutes prior to each scheduled departure.
Ticket Information
Tickets should be purchased in advance online or may be purchased onsite at the Calera Depot on the day of departure, subject to availability. The ticket office is open one hour prior to all scheduled departures.
Ticket Prices
Infants (Ages 0-24 months): FREE
Children (Ages 2-11): $18
Adults (Ages 11-64): $18
Seniors (Ages 65+): $17
Veterans (valid ID required): $17
National Historic Railroad Society Members (NHRS): $17
Locomotive: $38
Caboose: $28
Get Tickets!
---
Important Ticket Information:
Train tickets are non-refundable. However our ticket team is happy to apply any unused travel funds to a train ride at a different date/time in the same operating season (March-October).
Infant Tickets
Infants under 24 months old ride free of charge, but must remain in an adult's lap at all times. For your safety, strollers and infant car seat carriers are not permitted aboard the train.
Stay on Track!
Our team has worked hard to ensure a safe and relaxing time for your family onboard our train. Upon arrival at the Heart of Dixie Railroad Museum, please stay on track by agreeing to follow all verbal directions from your car hosts and adhere to all posted safety and sanitation guidelines on the train and throughout the grounds.
Limited Accessible Seating Available:
Except for certain special events, if someone in your party needs to reserve a space for a wheelchair, please add all other passengers' tickets to your order first and at checkout, you will be asked to add the ADA space reservation to complete your order.
Wheelchair Accessibility
Our train has wheelchair accessible accommodations on the Long Island 2972 and Open Air Car 1121. Wheelchair loading and unloading only occurs at the Calera Depot using a MobiLift wheelchair lift by Adaptive Engineering Inc. We do not have wheelchair boarding capabilities at stops such as Ozan Winery or our special events "Meadow" . Note: A person in your party must be in a wheelchair to purchase this ticket. This is only a space for a wheelchair, no seat is provided.
More information about accessibility can found on our ADA Information page.
Refreshments
Snacks and drinks are available for purchase at our Gift Shop and during special events at the Meadow. Meadow purchases are cash only. The Heart of Dixie Railroad Museum's policy is that no food or drinks may be brought on the train. Please finish refreshments prior to boarding at the depot or Meadow. This policy also applies to any intermediate train stops where food or drinks may be sold.
Restrooms
There are no working restrooms on our vintage railcars. Please use the restroom at the Gift Shop prior to boarding.