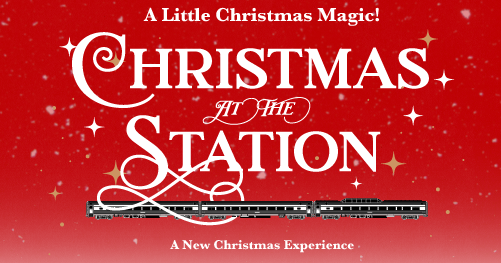 A Daytime Holiday Adventure
Christmas at the Station is a newly reimagined daytime holiday event at the Heart of Dixie Railroad Museum each Saturday before Christmas in December. Bring the family for a fun-filled Christmas experience riding trains, seeing Santa, exploring a festive maze, and more on the Museum grounds!
Experience Christmas Wishes Come True
Ride the seasonally decorated Calera & Shelby train; visit Santa for a festive photo opportunity; travel the tracks of the narrow gauge steam train on the Shelby & Southern railroad; and discover what's hiding around the corners of the Merry Maze – all included only with your Christmas Experience ticket!
Event Details
For even more festive fun in the sun, be sure to wear your favorite Christmas sweater, pajamas or costume!
Pick up your preordered tickets at the historic train depot (limited onsite ticket sales may be available)
Enjoy Christmas décor and photo opportunities onsite
Food vendors on the grounds will offer lunch options, drinks and snacks. No food or drinks will be served onboard. Please finish all food/drinks prior to boarding.
Board the train at your assigned boarding area approximately 15 minutes prior to your departure time.
Ride the seasonally decorated Calera & Shelby Railroad (30 minutes)
Capture your own Christmas photo with Santa on the Museum grounds.
Ride the narrow-gauge steam train on the Shelby & Southern Railroad (5-6 minutes)
Explore the twists and turns of the cheerful Merry Maze
Shop the giftshop for the perfect Christmas presents
Arrival Information
Plan to arrive approximately 60 minutes prior to your scheduled train departure. Traffic is persistently unpredictable and difficult to navigate. Having some time to spare upon arrival will give you relaxed time to:
Pick up your tickets at the red and yellow Calera Depot next to the train
Use the restrooms at the Gift Shop, as there are no restrooms onboard the train
Visit the food vendors on the grounds
Take photos
Shop the Gift Shop
Get in position to board the train.
Ticket Prices
Ages 2+ in all coach cars: $18
Infants (under 24 months): FREE
Which Car Should We Ride?
Each passenger car on the North Pole Express offers a unique experience for your family. There's no wrong answer!
CHICAGO & NORTHWESTERN Coach #59:
A double-ended, double-decker car, passengers board the center of the coach to access either the UPPER or LOWER C&NW-A side or the UPPER or LOWER C&NW-B side. (Seats face each other in groups of four on the lower level. Upper-level seats are side-by-side facing inward towards the center of the car)
FRISCO Coach #1062:
The Frisco is our most historic coach. Built in 1910, the car's beautifully decorated interior provides a traditional Christmas atmosphere from yesteryear. (Side-by-side pairs of seats all face a single direction)
LONG ISLAND Coach #2972:
Known as the "party car," this large, brightly decorated car offers extra leg room between facing seats -- perfect for the little ones to dance in! (Seats face each other in groups of four to six)
Lower EAGLE & Upper DOME Coach #892:
This unique car offers not only comfortable Lower Level Eagle seating, but also a smaller Upper DOME level covered by a glass planetarium roof! (Lower Eagle seats face each other in groups of four. Upper Dome seats are in side-by-side pairs, all facing a single direction)
SILVER MAPLE #4741:
Relax in this 1947 former Pullman car with gently reclining cushioned seats and sparkling holiday décor. (Seats face each other in groups of four)
"SANTA FE" #2823:
A sister car in appearance to the Silver Maple, enjoy your ride in this car built in 1953 with gently reclining cushioned seats classic holiday decorations. (Seats face each other in groups of four)
Get Tickets!
---
Note: Ticket prices include taxes but not convenience fee. $3.00/ticket purchased on web or $4.00/ticket if purchased through the ticket call center at (205) 757-8383.
Please Note:
Our team has worked hard to ensure a safe and relaxing time for your family onboard our train. Please be sure to follow all verbal directions from your car hosts and adhere to all posted safety and sanitation guidelines on the train and throughout the grounds.
Mask Wearing is Required:
Masks are required while aboard all Heart of Dixie Railroad Museum (HODRRM) trains and also while on museum property. This requirement is in compliance with an Emergency Order issued on March 1, 2021 by the Federal Railroad Administration (FRA). HODRRM operates as a Class III railroad (reporting mark: CSMX) which places it under the jurisdiction of the FRA.
Important:
Within the last 14 days, if you have experienced unusual occurrences of fever, cough, shortness of breath or difficulty breathing, chills, repeated shaking with chills, muscle pain, headache, sore throat, new loss of taste or smell or nausea had contact with a person with a positive or presumed positive COVID-19 case, Please Protect Yourself And Others By Choosing To Not Ride The Train At This Time.
Stay on Track!
Upon arrival at the Heart of Dixie Railroad Museum, please stay on track by agreeing to follow these guidelines:
Graciously follow all verbal directions from our train crew.
Honor all social distancing and sanitation requirements.
Notice the needs and respect the safety of others around you.
Stay safe and have fun!
The train ride lasts approximately 60 minutes. Pre-purchased tickets may be safely picked up at the Depot, or tickets may be purchased on-site the day of the event.
Limited Accessible Seating Available:
If someone in your party needs to reserve a space for a wheelchair, please add all other passengers' tickets to your order first and at checkout, you will be asked to add the ADA space reservation to complete your order.
Infant Tickets
Children 0-24 months ride free of charge though required to sit in an adult's lap at all times. When ordering your tickets, select "Coach Infant" for no additional charge. If you did not order an infant ticket with your initial order, notify the ticket agent upon your arrival at the Calera Depot that you have a child 0-24 months that will sit in your lap, and you will receive an infant ticket. For your safety, strollers and infant car seat carriers are not permitted aboard the train.
Wheelchair Accessibility
Our train has wheelchair accessible accommodations on the Long Island 2972 and Open Air Car 1121. Wheelchair loading and unloading occurs at the Calera Depot with a MobiLift wheelchair lift. We do not have wheelchair boarding capabilities at stops such as Ozan Winery. Note: A person in your party must be in a wheelchair to purchase this ticket. This is only a space for a wheelchair, no seat is provided.
Click here for more accessibility information.
Refreshments
Snacks and drinks are available for purchase at our Gift Shop and at the Meadow. Purchases at the Meadow are for cash only.
The Heart of Dixie Railroad Museum's policy is that no food or drinks be brought on the train. Please finish your refreshments before boarding the train at the depot. This policy also applies to any intermediate train stops where food or drinks may be sold.
Restrooms
There are no working restrooms on our vintage railcars. Please use the restroom at the Gift Shop prior to boarding.