Hop Aboard with 'Some-bunny' Special
This Easter weekend, there's no need for your child to scramble for sugary Easter eggs with a jumble of other kids! Instead, plan to have a relaxing, gentle time onboard the train together. You'll even get to make a photo with the Easter Bunny himself as Peter Cottontail personally visits every family onboard the train. He'll make sure each child receives a special sweet treat at the end of the ride!
Make it 'Egg-stra' Memorable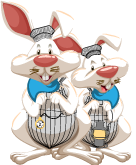 A variety of free, family-friendly activities and crafts will be available for you to enjoy together on the Museum grounds. If you're lucky, you may come across a secret golden egg to redeem for a special prize! Purchase tickets to ride the Shelby & Southern steam train and be sure to enjoy a delicious lunch and scrumptious snacks from the food truck and vendors on the grounds throughout the day.
The train ride lasts approximately 75 minutes, so bring your sunglasses, a smile and the whole family! This event is a quality Easter alternative for children with sensorial needs.
Event Date
Departure times:
10:00 a.m.
1:00 p.m.
3:00 p.m.
*All times Central
Event Details
Boarding begins 15 minutes before scheduled train departure.
Tickets may be purchased in advance online or may be purchased as available on the day of the event prior to boarding at the Calera Depot.