We all need a little Christmas magic this year...
...and you'll find it at the Heart of Dixie Railroad Museum's NEW Christmas at the Station event in Downtown Calera! Bring your family and friends to celebrate the holiday season together amidst hundreds of thousands of twinkling lights blanketing the trains, Museum buildings and grounds.
Your Christmas Experience ticket includes a ride on the Calera & Shelby Railroad, a ride on the Shelby & Southern's "Candy Cane Special", access to the Merry Maze of Lights, and the ability to safely take your annual family photos with Santa Claus!
Enjoy an evening of family games and activities, drink some hot chocolate, visit a food truck, and be sure to write (and deliver!) your letter of Christmas wishes to jolly old St. Nick!
The Couple's Caboose
Make the experience a special date with your sweetheart with tickets in the Couple's Caboose! Travel down the tracks in this car for two (plus a brakeman doing his work on the train and ensuring your safety).Tickets are very limited.
It's a Classic Christmas experience for the whole family.
Activities on the ground begin at 4:00 p.m.
Ticket Office opens at 4:00 p.m.
Christmas Experience tickets will be priced at $33 apiece and are all-inclusive of a C&S ride, S&S ride, family photo with Santa, and access to the Merry Maze of Lights.
Don't miss your annual family photo with Santa!
Additional activities will be available on the grounds.
Enjoy snacks from onsite food trucks, sweets vendor and hot chocolate stand.
Calera & Shelby trains depart hourly at 5:00, 6:00, & 7:00 PM.
The Shelby & Southern's "Candy Cane Special" departs regularly between 4:00 - 8:30 PM.
Seating will be limited and socially-distanced for our passengers' comfort and safety.
Ride the Shelby & Southern's "Candy Cane Special"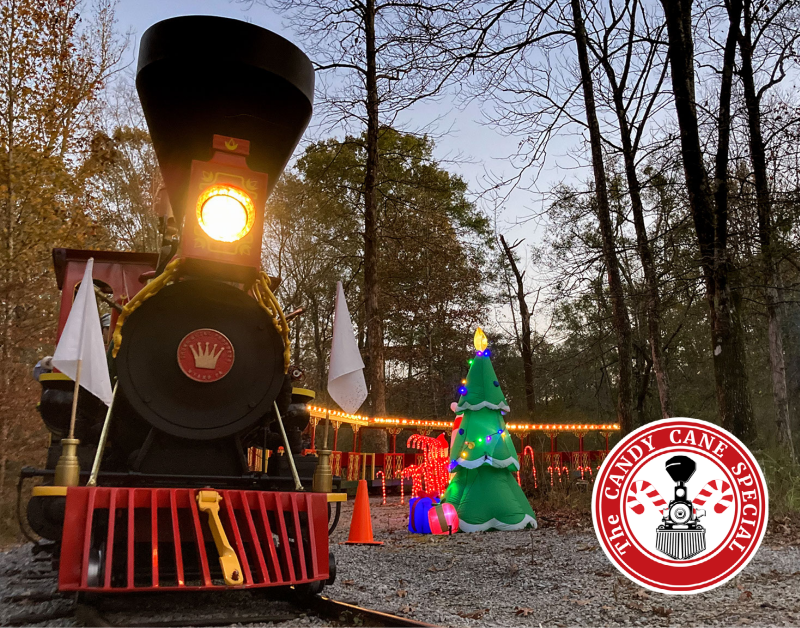 All Aboard for the Shelby & Southern Railroad's "Candy Cane Special" for an exciting trip to "Candy Land" for a "sweet" candy treat! Hop aboard the former train which served the Birmingham Zoo from 1976 - 2001.The train is pulled by an authentic narrow gauge steam locomotive with all the bells and whistles! A trip to Candy Land on the Candy Cane Special is included with your Christmas Experience Ticket. Walk up and additional tickets are available at the Shelby & Southern Depot's ticket window for $5.00. The Candy Cane special is sure get your family fired up for Christmas!
An À la carte Classic Christmas!
Purchase a $15 Picture Pass only from the Giftshop for your family photo with Santa at Christmas at the Station.
Shelby & Southern "Candy Cane Special" tickets are available for walk ups and additional rides at the S&S Depot's ticket window!
Ticket Information
Tickets may be purchased onsite one hour before train departures at the Calera Depot (only as available!) or in advance online using the links below:
Ticket Prices
Coming Soon