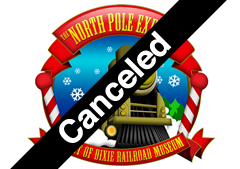 All aboard! Join us for a magical trip to the North Pole!
"All Aboard!", calls the conductor, and your family's magical journey to the North Pole begins! Through the dark night, the North Pole Express makes its way by starlight to the top of the world. Along the way, you'll hear the LIVE telling of a whimsical Christmas story, sing your favorite holiday songs and watch out the windows for the lights of the North Pole.
Upon the train's arrival and full stop at the brilliantly decorated home of the Toymaker himself, the elves, Santa and Mrs. Claus will all board the train to personally visit and take photos with every family onboard. Be sure to whisper your wish for what you're hoping to find under your tree on Christmas morning! After your special visit with the Christmas couple, you'll enjoy chocolate drinks and a yummy treat - delivered by the North Pole Express chefs, dance with the elves, receive a lovely Christmas keepsake and relax for the music-filled ride back to the Depot.
Your North Pole Express adventure will make lasting Christmas memories for you and your family for years to come -- And for even more fun, wear your cozy Christmas pajamas for the ride! The North Pole Express event lasts approximately 75 minutes including the train ride and time spent relaxing onboard the stopped train while at the North Pole.
Coach Class
You'll enjoy chocolate milk, cookies and sing Christmas carols. Listen to a special Christmas story and receive a Christmas gift!
First Class Service!

The Silver Maple chair car 4741 and the Santa Fe chair car 4700 will offer first class service hot chocolate in a souvenir mug, special dessert treat, special keepsake and specialized service!
Live Entertainment!
Enjoy live musical entertainment when you ride with the entertainer in the Chicago & North Western (C&NW) Gallery Car 59 – A End. Take a front row seat as the entertainer sings Christmas songs and reads a special story for everyone on the train!
Dates & Times
Fridays, Nov. 17, 24 Dec. 1, 8, 15
– Departure Times: 5:00 pm, 6:30 pm, 8:00 pm
Saturdays Nov. 18, 25 Dec. 2, 9, 16
– Departure Times: 5:00 pm, 6:30 pm, 8:00 pm
Sundays Nov. 19, 26 Dec. 3,
– Departure Times: 5:00 pm, 6:30 pm, 8:00 pm
Sunday December 10th
– Departure Times: 5:00 pm, 8:00 pm
All Times Central
Ticket Information
Group Tickets (20+) go on sale July 9th, 2020 - 9:00 AM Central
Individual Tickets go on sale July 20th, 2020 - 9:00 AM Central
First Class
A premium Christmas experience with special dessert, hot chocolate in a souvenir mug, and a special gift!
| | | |
| --- | --- | --- |
| | Age | Price |
| Infant | 0-24 mo. | Free* |
| Child | 2-11 yrs. | $47 |
| Adult | 12+ yrs. | $47 |
C&NW - A
Live Entertainment!
| | | |
| --- | --- | --- |
| | Age | Price |
| Infant | 0-24 mo. | Free* |
| Child | 2-11 yrs. | $37 |
| Adult | 12+ yrs. | $37 |
Coach
| | | |
| --- | --- | --- |
| | Age | Price |
| Infant | 0 - 24 mo. | Free* |
| Child | 2-11 yrs. | $27 |
| Adult | 12 + yrs. | $27 |
Tips
Tickets will not be on sale at the museum's main office. Please purchase tickets online, at the depot ticket window, or by calling (205) 757-8383
A ticket confirmation will be emailed to you after purchase if email address was provided during purchase. Please print the ticket confirmation out and bring to the Calera Depot ticket window on the night of your ride so as to pick up your tickets. Ticket confirmations cannot be used in place of tickets to board the train.
If you never received or have lost your ticket confirmation, call the ticket center at (205) 757-8383 or email us.
If you created an account with Whistle Tix during your purchase, you can log on here to view your account.
* Infant Tickets
Children 0-24 months ride free of charge though required to sit in an adult's lap at all times. Infant Tickets are not available online. When you arrive at the Calera Depot to pick up your tickets, please let the ticket agent know you are in need of any infant tickets. For your safety, strollers and infant car seat carriers are not permitted aboard the train.
Refund Protection
Refund Protection is available for your complete purchase for $20 at time of purchase. If you purchase Refund Protection, you have until 72 hours before your scheduled departure to receive a full refund. If you do not purchase Refund Protection, or if you wait until less than 72 hours before the event, there are no refunds. If you cannot use your ticket, you may want to give or sell your ticket to someone else.
Wheelchair Accessibility
For the North Pole Express, our train has one wheelchair accessible accommodation on the Long Island 2972 . Wheelchair loading and unloading occurs at the Calera Depot with a MobiLift wheelchair lift. Note: A person in your party must be in a wheelchair to purchase this ticket. This is only a space for a wheelchair, no seat is provided.
Click here for more accessibility information.
Restrooms
There are no working restrooms on our vintage railcars. Please use the restroom at the Gift Shop prior to boarding.
For More Information
Read over the North Pole Express Frequently Asked Questions!
Tickets and Event Information are available through the ticket call center at (205) 757-8383 .
We can be reached by email at [email protected].
Follow us on Facebook, Twitter and monitor our website for information about North Pole Express!