North Pole Express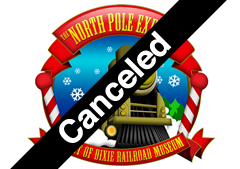 All aboard! Join us for a magical trip to the North Pole!
"All Aboard!", calls the conductor, and your family's magical journey to the beautiful North Pole begins!
Through the dark night, the North Pole Express makes its way by starlight to the top of the world. On the way, you'll listen to a whimsical Christmas story, sing your favorite holiday carols, and watch out the windows for the bright lights of the North Pole to appear.
Upon arrival at the brilliantly decorated home of the Toymaker himself, the elves, Santa, and Mrs. Claus will all board the train to visit your family and to take photos with every child. Be sure to whisper your wish for what you're hoping to find under your tree on Christmas morning!
After your special visit with the Christmas couple, you'll enjoy chocolate drinks and a yummy treat - delivered by the North Pole Express chefs. You can dance with the elves, receive a lovely Christmas keepsake, and relax for the music-filled ride back to the Depot.
Your North Pole Express adventure will make lasting Christmas memories for you and your family for years to come -- And for even more festive fun, be sure to wear your pajamas for the ride!
Each passenger car on the North Pole Express offers a unique experience for your family:
CHICAGO & NORTHWESTERN Gallery Coach #59:
Enjoy a front row seat in the C&NW-A to watch the train's LIVE entertainers tell a whimsical Christmas tale and perform Christmas songs for everyone on the train! For a live view from further back, relax on the C&NW-B.
(Seats face each other, accommodating for up to 6 passengers per facing section)
SILVER MAPLE Coach #4741 and "SANTA FE" Coach #2823:
These gorgeously decorated First Class cars offer upgraded perks, including:
- The North Pole's finest hot chocolate (served in a souvenir mug)
- Your choice of one of Mrs. Claus's yummy bakery treats
- A quality keepsake ornament, and
- A complimentary glowstick for each child.
(Seats face each other, accommodating for up to 4 seated passengers per facing section)
The Frisco 1062 is the most historic car to travel on the North Pole Express. Built in 1910, the car's beautifully decorated interior provides a classical Christmas atmosphere from yesteryear.
(Side-by-side pairs of seats all face a single direction)
Known as the "party car," this large, brightly decorated car offers extra leg room between facing seats -- perfect for the little ones to dance in with elves!
(Seats face each other, accommodating for 4–8 seated passengers per facing section)
Upper & Lower Planetarium Dome Coach #892 "The Eagle":
This unique car offers not only comfortable Lower Level seating, but also a smaller upper level covered by a glass dome! When you purchase the Upper Level seats (ONLY), you'll travel by starlight and get the first view of the North Pole Lights from above.
(Lower Level seats face each other, accommodating for up to 4 seated passengers per facing section.) (Upper Level seats are in side-by-side pairs, all facing a single direction)
The North Pole Express train ride lasts approximately 1½ hours including the train ride through the forest and time spent relaxing onboard the train while stationed at the North Pole.
Dates & Times
Fridays, Nov. 15, 22, 29 Dec. 6, 13
– Departure Times: 5:00 pm, 6:30 pm, 8:00 pm
Saturdays Nov. 16, 23, 30 Dec. 7, 14
– Departure Times: 5:00 pm, 6:30 pm, 8:00 pm
Sundays Nov. 17, 24 Dec. 1
– Departure Times: 5:00 pm, 6:30 pm, 8:00 pm
Sunday December 8
– Departure Times: 5:00 pm, 8:00 pm
Tickets
Group tickets (20+) go on sale 9AM CST July 8, 2019.
Individual tickets go on sale 9AM CST July 22, 2019.
Tickets sell quickly! Immediate purchase is essential!
Coach Class
C&NW - A End (Live Entertainer)
First Class
Infant*
$28
$37
$47
Free
Please Note: Above prices include taxes but not convenience fee. $3.00/ticket purchased on web or $4.00/ticket if purchased through the ticket call center at 205-757-8383.
Tickets only available online or by calling (205)757-8383. Tickets not available for purchase at the museum's office.
You will have a ticket confirmation emailed to you after purchase if email address was provided during purchase. Please print the ticket confirmation out and bring to the Calera Depot ticket window on the night of your ride so as to pick up your tickets. Ticket confirmations cannot be used in place of tickets to board the train.
If you never received or have lost your ticket confirmation, call the ticket center at 205-757-8383 or email us.
If you created an account with Whistle Tix during your purchase, you can click here to log on to view your account.
* Infant Tickets
Children under 24 months of age ride free of charge. However, each infant is required to sit in an adult's lap at all times while on the train. When ordering your tickets, select "Coach Infant" (if available) or simply request a complimentary infant ticket at the Ticket Depot to receive the appropriate ticket. If you did not order an infant ticket with your initial order, notify the ticket agent upon arrival.
Refund Protection
Refund Protection is available for your complete purchase for $20 at time of purchase. If you purchase Refund Protection, you have until 72 hours before your scheduled departure to receive a full refund. If you do not purchase Refund Protection, or if you wait until less than 72 hours before the event, there are no refunds. If you cannot use your ticket, you may want to give or sell your ticket to someone else.
Wheelchair Accessibility
For the North Pole Express, our train has one wheelchair accessible accommodation on the Long Island 2972 . Wheelchair loading and unloading occurs at the Calera Depot with a MobiLift wheelchair lift. NOTE: A person in your party must ride the train while IN a wheelchair in order to purchase this ticket. This ticket provides only a secure SPACE for a wheelchair - Meaning, NO actual seat is provided with this ticket
Click here for more accessibility information.
Restrooms
There are no working restrooms on our vintage railcars. Please use the restroom at the Gift Shop prior to boarding.
Photo/Video Policy
Upon purchasing a ticket to participate in the events sponsored or hosted by The Heart of Dixie Railroad Museum, you acknowledge and agree that you and/or your child (and/or children) in your care may be photographed and/or videotaped. You agree that any such image may be used to publicly promote the museum and its events via print publications, online publications, presentations, websites and social media. You also understand that no compensation nor fee will be provided to you for the use of such photographs/videos.
Food & Drink
Snacks and drinks are available for purchase at the Gift Shop and may be provided during certain special events. However, The Heart of Dixie Railroad Museum's policy is that other than bottled water and infant care items, no outside food or beverages may be brought onboard the train. Please finish or dispose of refreshments before attempting to board the train.
Inclement Weather Policy
For the safety of our visitors, The Heart of Dixie Railroad Museum will temporarily close when lightning is present and will remain closed for 30 minutes past the last lightning occurrence.
The HODRRM may close for the day if inclement weather conditions persist. If your scheduled train ride is cancelled and will not be rescheduled that same day, HODRRM may provide, upon request, a full refund or exchange of your ticket.
Please arrive at least 1 hour prior to your departure time to:
- Find appropriate parking
- Pick up your tickets at the Calera Depot
- Use the restrooms at the Gift Shop
- Check out the Depot Museum exhibits
- Tour our collection of railroad equipment in Clark Yard
- Visit our working Signal Garden
- Take photos
- Shop the Gift Shop, and
- Get in position to board the train.
For More Information
Need more information? Please read over the North Pole Express Frequently Asked Questions!
Tickets and Event Information are available through the ticket call center at 205-757-8383.
We can be reached by email at [email protected].