Wild West Day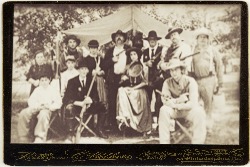 Round up your family and take a journey back to the Wild West! Watch Out! The Black Hat Gang is on the loose! Word on the street is they are looking for a train to rob! Don't worry, we'll have the Sheriff and Pinkerton detectives on board to keep the law! Bring your camera just in case you happen to see an outlaw!
Wild West Day is a family event and chocked full of side splittin' humor!
The Wild West Day train ride lasts approximately 1 ½ hours. Please arrive 1 hour prior to your departure time to pick up your tickets at the Calera Depot, to use the restrooms at the Gift Shop, and to get in line at your boarding location. Make sure to visit the exhibits in our Depot Museum, our collection of railroad equipment in Clark Yard, our working Signal Garden, and our Gift Shop!
Train Rides
Saturday, July 20, 2019 - 10:00 am, 1:00 pm, 3:00 pm
Tickets
| Adult | Child | Infant | Caboose | Locomotive |
| --- | --- | --- | --- | --- |
| Ages 12 and up | Ages 2-11 | Under 2 | | |
| $17 | $12 | Free | $25 | $35 |
Please Note:
Above prices include taxes but not convenience fee. $3.00/ticket purchased on web or $4.00/ticket if purchased through the ticket call center at 205-757-8383.
Infant Tickets
Children 0-24 months ride free of charge though required to sit in an adult's lap at all times. When ordering your tickets, select "Coach Infant" for no additional charge. If you did not order an infant ticket with your initial order, notify the ticket agent upon your arrival at the Calera Depot that you have a child 0-24 months that will sit in your lap, and you will receive an infant ticket. For your safety, strollers and infant car seat carriers are not permitted aboard the train.
Wheelchair Accessibility
Our train has wheelchair accessible accommodations on the Long Island 2972 and Open Air Car 1121. Wheelchair loading and unloading occurs at the Calera Depot with a MobiLift wheelchair lift. We do not have wheelchair boarding capabilities at stops such as Ozan Winery, Cottontail's Meadow for the Cottontail Express, or the Pumpkin Patch for the Pumpkin Patch Express. Note: A person in your party must be in a wheelchair to purchase this ticket. This is only a space for a wheelchair, no seat is provided.
Click here for more accessibility information.
Restrooms
There are no working restrooms on our vintage railcars. Please use the restroom at the Gift Shop prior to boarding.