North Pole-inspired Date Night!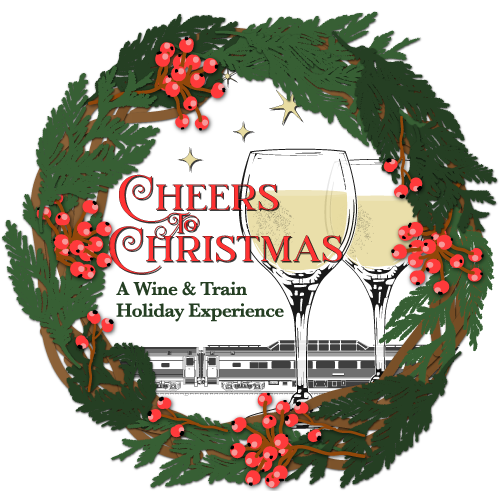 Celebrate the season with a train ride to Ozan Winery & Distillery in gorgeously decorated First Class cars with your glass soon to be in hand! Plan your holiday experience now to join us for a North Pole-inspired date night!
Christmas Rail Excursion!
Depart from the Calera Depot on a timeless Christmas rail excursion to Ozan Winery & Distillery. Arrive at the vineyard stop, followed by a short walk to Ozan Winery for an indoor wine & cocktail gathering. Exchange tickets for wine and cuisine, with additional cocktails and wines by the glass available for purchase.
International Holiday Cuisine Box
The event features an International Holiday Cuisine Box, Ozan wine pours, bottle purchase opportunities (10% off) complete with an Irish Coffee send-off. Guests will receive 2 drink tickets and 1 food box ticket. Choose a glass of your Ozan favorites like Riesling, Peach, and Pinot Noir, among others. All wines and spirits will be available for purchase by the bottle for you to take home to continue this Christmas celebration.
Schedule
Departure Times: Departure Times: Thursday, December 15, 2023 at 6:30 p.m. & 8:15 p.m. Central
Boarding begins 15 minutes before scheduled train departure.
Event Details
Depart from the Calera Depot
Duration: 2.0 hours
Travel onboard gorgeously decorated First Class cars to the Ozan Winery & Distillery Stop.
Lighted short walk to Ozan Winery for a Welcome wine pour upon arrival (Drink ticket exchange).
International Holiday Cuisine Box

Paired with award winning Ozan wine's
Departing with a warm Irish Coffee!*

Indoor Holiday Cocktail Party atmosphere with seasonal decoration!
Cocktails and wine by the glass will be available for purchase.
Bottle purchase for all wines and spirits available prior to departure - 10% off all wines!
Drinking onboard the train is prohibited.
Reservations can be made for 2, 3, 4, 5, 6, 7 or 8 persons.
Single tickets are not available at this time
Special Event ticket sales are final. There are no exchanges or refunds for tickets purchased for any train events.
*Drink ticket exchange or purchase available
Ticket Prices
Includes reserved table, admission and all included offerings.
Event for 2: $119.00
Event for 3: $178.50
Event for 4: $238.00
Event for 6: $357.00
Event for 8: $476.00
Get Tickets!
---
Top
Visitor Tips
The train crew strives to keep all train departures precisely on schedule. Plan to arrive approximately 60 minutes prior to your scheduled departure to provide you with enough time to be in position for timely boarding.
There are no working restrooms on our vintage rail cars. Please ensure adequate time to use the restroom prior to boarding.
Outside food and drinks other than bottled water are only permissible in the open-air cars and are not allowed in any historic enclosed coach.
ADA Accomodations
Secure seating accomodations are provided onboard the Long Island No. 2972 and Open Air Car No. 1121. Reserve seating for these limited spaces is available at the time of ticket purchase.
The boarding platform for Ozan Station was built specifically to ease access for riders with limited mobility. Riders are able to step, or roll, directly coach onto the station's platform which also provides a ramp descending from platform level to ground level
Any passenger with limited mobility boarding the Calera & Shelby coaches at the Calera Depot may use our Mobilift system, by Adaptive Engineering Inc.. To make use of this, please inform the ticket agent when picking up your tickets.
Stay on Track!
Our team has worked hard to ensure a safe and relaxing time for your family onboard our train. Please be sure to follow all verbal directions from your car hosts and adhere to all posted safety and sanitation guidelines on the train.